Select a Story:
About Ceny
---
Farewell Letter to Mama
---

Share a Story *

Email Curator
Share this:
---
Related Memorials:
---
Roland Santiago (Husband)
Juan Nepomuceno (Grandfather)
Clemecia N. Quiban (Aunt)
Stories about Ceny
About Ceny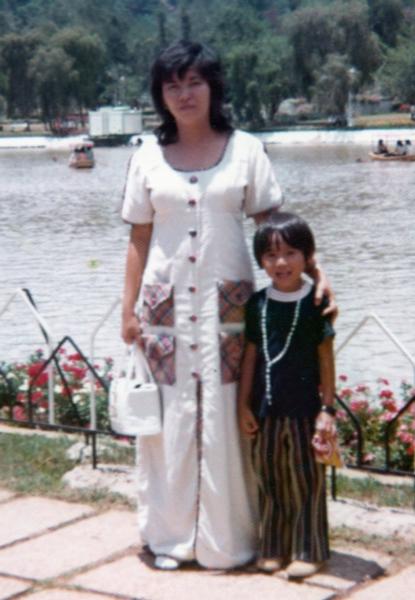 She was born Azucena Nepomuceno Wijangco on March 10, 1943 to Emilia and Nicolas Wijangco in Quezon City Philippines. She was the first child and grew up in Tarlac, Tarlac and Quezon City. She graduated from the University of Santo Thomas with a degree in Fine Arts, majoring in Interior Design.
She married Rolando P. Santiago on the 8th of July, 1967. Shortly after their wedding, they started a small shoe store in Tarlac, called Rocen. The name Rocen is a fusion of Rolando and Ceny which is what Azucena's family and friends called her.
Eat your heart out Hollywood! You thought Brangelina, Bennifer and Tomkat were your original ideas? Over decades ago, a less-known couple in the Philippines did the name fusion first!
Back to Angelina's, um, I mean Ceny's life. In search for greener pastures, the couple relocated to Olongapo City in 1970. Olongapo which was adjacent to the U.S. Naval Base, was a booming city. They opened a men's shoe store called Santiago Shoes. At first, the shoes were made by a shoe factory in Tarlac, owned by Roland's father, Pablo. Within three years, they were able to buy a house with a decent-sized backyard and converted that space into a small shoe factory. Their business flourished and were able to expand in Dagupan City.
Ceny was in charge of budgeting for the house and the shoe business. There was a time when she discovered another passion - shopping in Hong Kong! Being a practical person she mixed business with pleasure, she would buy clothing, jewelry and gift items there and then sold them back home. Of course she kept the items that were not sold.
She was creative and had a knack for painting, drawing and interior design. She made sure their home and store were well decorated. Especially around Christmas time, she was busy making decorations. People would often praise her for her elegant taste. Almost every year, there were different Christmas decorations, some were recycled into something new.
As a person, Ceny was caring, giving and loving. She always told a story with so much enthusiasm that you couldn't help but smile. Her infectious laughter would light up a room. She loved her family, relatives and friends dearly. Every Christmas, she made sure that each one got a special gift from her.
Ceny and Roland had two kids Roderick and Sarah. Sarah, the youngest child, got married early and moved out eventually. She gave Ceny three beautiful granddaughters; Shari, Sandy and Shahana.
Roderick, the eldest child, grew up to be a dashing, (insert more embellishments here) person. He graduated with a Bachelor's degree in Business Management and an Associate's degree in database programming. He also has a PhD in being a mama's boy. On November 4, 1998, Roderick broke the mama's boy code and immigrated to the United States.
Two years later, Rod (Roderick) got a call that her mom Ceny had an aneurysm. She survived it but had weakened her heart. Roland and Ceny decided to move to Tarlac to be closer to Ceny's family.
In June of 2007, Rod got the worst phone call ever at two o'clock in the morning. On the other line was Wendy, Ceny's niece, she said that his mom had passed away.
I am Rod, Ceny's son, and I wrote partially of what I've witnessed of my mom's life.
It's been six years now since she passed away. I haven't gotten over it but I have gotten used to it. Reflecting back on her life, it brings me joy to have known her.
I love you mama and will miss you as long as live!